I was crammed into a window seat in coach. The young woman next to me kept leaning her neck pillow into my personal space. At the end of our row, a large, brightly attired elderly woman was firmly ensconced – I knew there'd be no way out for me until she decided to get up.
The cabin lights went down. The flight attendants were about to serve dinner. Six hours til landing if all went well.
Maybe the chardonnay was helping, but I felt happy.
I've just been traveling for a little under two weeks, remembering why I love to travel. This isn't one of my standard "I don't know who I am unless I'm lugging a guitar on the jetway" posts. Although I still have to explain and justify to myself why and how I'm allowed to go somewhere without carrying an instrument. As more time goes by I settle into the idea that I'm allowed to experience the world without a three piece band "looking at the back side of me," as Waylon Jennings sang, or even just the breeze of an empty stage because I'm playing by myself.
With a trio of solo gigs out of the way (they were fun! I did enjoy them and made some $), I flew out to Los Angeles for a quick visit to my daughter Hazel. It was the two year anniversary of her move to the West Coast. I've always loved L.A. so having her there is like getting to live there myself without having to find work and a place to live. Which she has done admirably, just now moving into a new place, all while continuing to play music, both her own project and with a band that is touring some this summer.
We both love food and planned a lot of my trip around trying or returning to some great places. After she picked me up at LAX, we stopped at this huarache place in Highland Park called I think El Huarache. These are not shoes but really tasty corn tortillas in the shape of a shoe, topped with meat and cheese and onions and sauce. It was delicious.
One of the hard things about being a parent who's traveled regularly and been here, there and everywhere for decades is to try and keep my mouth shut and not be that guy who's always "I've been here. I love this neighborhood! This place is cool but have you tried________? I remember this time we went to ____________. You know, so and so used to take me to this place…" and on and on. You want to be like the child in these instances and let your kid take the lead. Maybe it's the natural transition that has to occur IN CASE they end up having to look after you as you get old. (Or let's be honest…WHEN they end up having to look after you.)
Like driving. I love to drive in L.A. but my daughter has a car and is an excellent driver so I just sat back and let her get us around.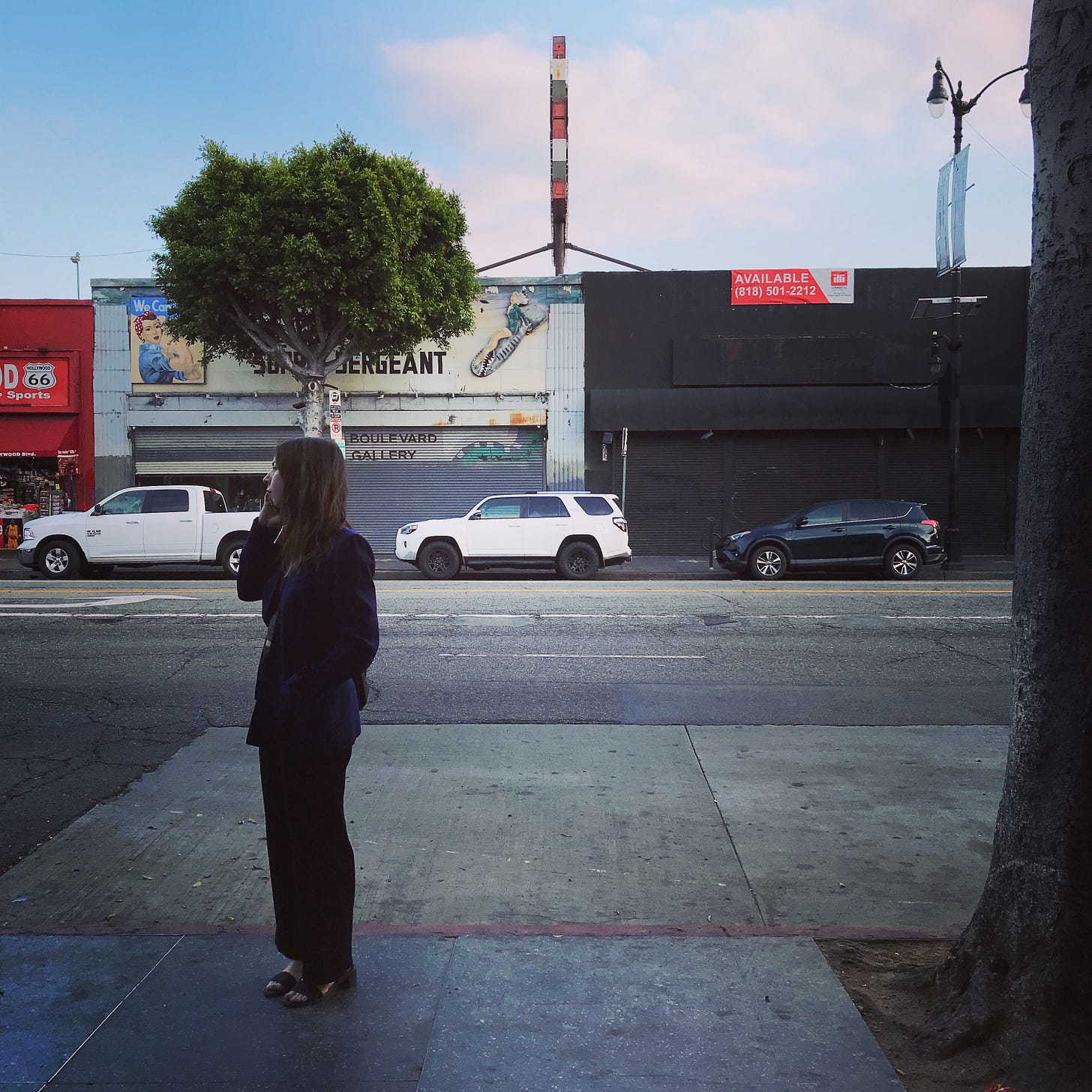 I stopped in at Wild Honey loft in Eagle Rock where I would be staying. Paul Rock puts on shows there right in his backyard along with his larger Wild Honey affairs like the Nuggets celebration this past weekend. There's a stage and seating for about 50 (80?) people and then a studio and sweet apartment above. I dropped my stuff and then we headed into Hollywood to try and get in to Musso and Frank's, the classic grill I've wanted to try forever. It was packed so we forged ahead to Mozza for pizza, and it was really incredible. We grabbed an okay bottle of wine in a Walgreen's (in NY it's only Chateau Diana for drugstore wine) and went back to the loft to watch some trashy series or other.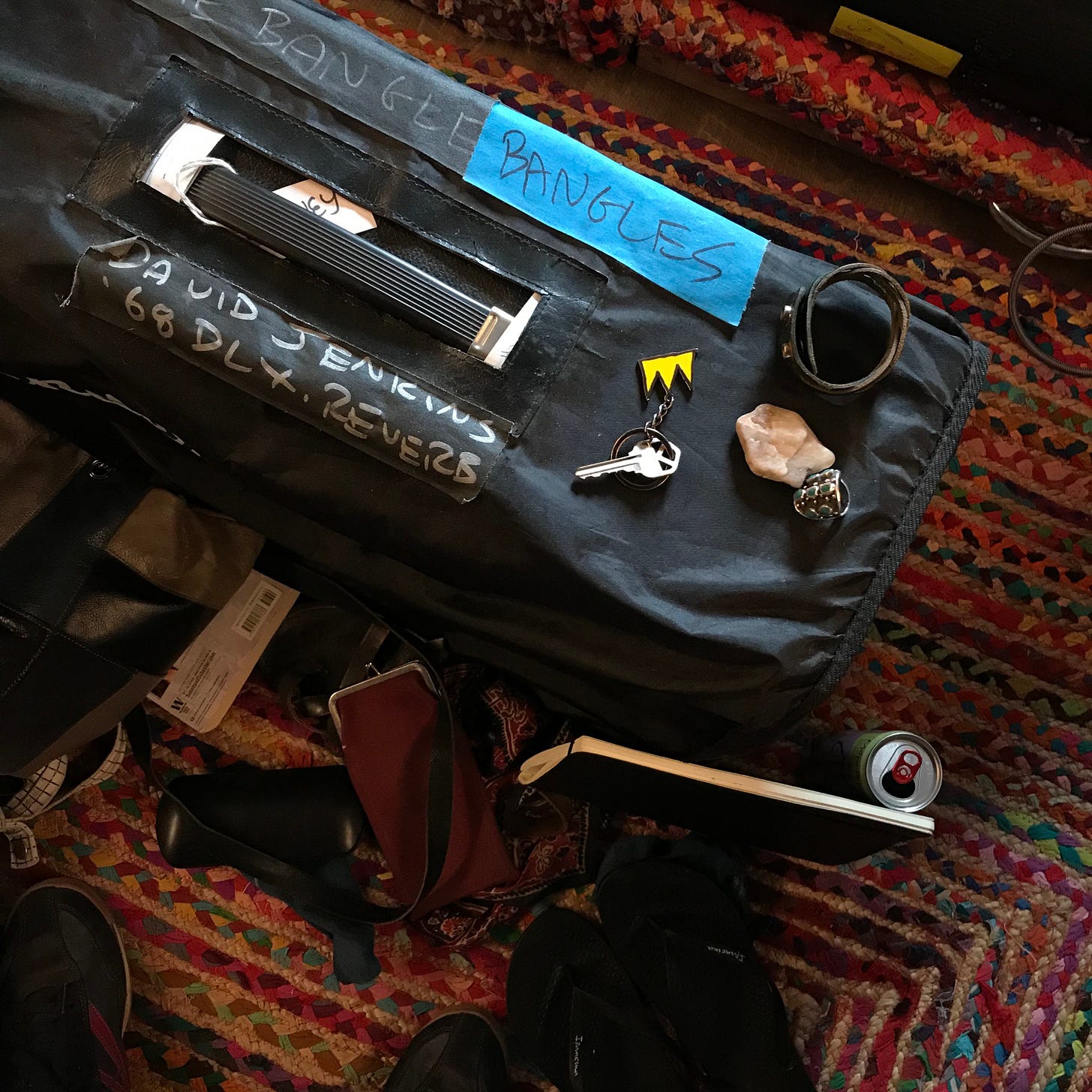 The next day I moved downstairs into the Wild Honey studio. It was beautifully soundproofed, had a comfy bed and sweet Yamaha piano that Hazel enjoyed playing. I pulled out the studio Strat to try and write a song. We treated ourselves to a Korean day spa. It was like a dream – if you've ever been to the Russian Baths on 10th Street in NYC, multiply the size by twenty, add decent lighting and empty it of everyone except a hardworking attendant who zealously scrubbed down every surface. Hot tub, sauna, steam room, salt room, sauna, cold pool with numerous showers in between had us both in a stupor of relaxation. AND there was plentiful free parking – that always shocks me in Los Angeles, I don't know why.
We went downtown to dine on sushi at this place Hama we'd gone to a year before. The most basic counter, lots of handwritten signs: NO CELLPHONES! NO TEMPURA! Little Tokyo is a trip, L.A. is a trip, there isn't the feeling I get these days in NYC that only those with huge amounts of money/corporate backing can somehow get and keep a place going. All the space in LA means old places seem to hang on forever. I'm aided in this illusion by not actually living there so I don't have to mourn places that do disappear as I never got to know them in the first place. Maybe it's like Manhattan woven with Queens and the far reaches of Brooklyn. Can't help but doing these comparisons but I realize it's pointless. Each place is its own world. There are encampments and camper vans everywhere – I don't see that in New York, it is just too cold in winter. The weather in L.A. is still part of the reason everyone lives there.
We walked and walked and then drove back to Eagle Rock where Hazel introduced me to Walt's – a cute bar with loads of pinball machines. I gravitated to the Elton John Pinball Wizard model. There were people in shorts and sporty clothes. I kept shaking my head in disbelief: I'm in L.A.
Next day I met my friend Clyde at this retro-looking coffee shop near me in Eagle Rock. Cindy's was really good and it was within walking distance of my digs so that's a New York thing – wanting to walk to a destination – I can never let go of, sometimes at my peril.
Then Hazel drove us out to Malibu. We had a glorious hike in among the wildflowers and then strolled the beach at Zuma. Drove up through Topanga Canyon and ate lunch at the Inn of The Seven Dials, our hostess suitably hippie in her floaty halter dress, telling us all about their "triple-filtered by reverse osmosis" water, it was a lovely spot with okay food. Like many things in Southern California, you just go with it and don't take any of it seriously.
I think we took a nap after another long drive, and then drove up to Burbank to eat (again!) at the Smokehouse. Smokehouse is one of those classic places you hear of and wonder how it can live up to the hype: hangout for movie stars and musicians and just plain folks having a special dinner out or gathering in the bar for the band. What band? It might not matter. They'll likely play songs you or I or anyone knows. The decor is dark wood and red leather with a ranch theme sprinkled here and there, the fonts are suitably forties/fifties, the martinis are strong and served in little pitchers kept cold in bowls of ice. Everyone gets the cheese bread, which seems to have powdered Cheeto mix baked into the top and is delicious. I had tri-tip, the king of California beef cuts, Hazel had shrimp – both IN SALADS. We have some self-control. There was the feeling that nothing should ever change – not the surly waitress who softened as the evening went on; not the three generations of women dining in the next booth over. Not the old guy we saw spring up from a bench in the lobby, pulling a tambourine out of his vest pocket to join the band slightly to the side of the speaker, where he shimmied and shook for a couple of hours. Wish I knew his story. We stayed on barstools through the classic rock selections but were powerless to resist Purple Rain when a large guy who was either a drug dealer or adult film talent agent grabbed our hands and led us to the front of the stage to sing along.
I felt a little hungover the next morning. It was a nostalgic feeling. We went to Frogtown, Hazel's old neighborhood, for some breakfast and to check out a flea market. It was fun walking along the river, something you don't expect to do in L.A. The flea market was full of the young and fabulous. I spotted a pretty silk blouse and went to pay for it. "How did you find us today?" the twenty-something proprietress wanted to know. I just strolled on over, I said. "Oh – cute," she said. The flea market clientele skewed mid-twenties. I asked if she took cards – "Umm. Venmo?" she offered. I'm torn in these situations, between wanting to seem as up to the minute as possible and feeling compelled to make someone explain in excruciating detail what this newfangled contraption…or umm app is. "You mean I make the payment right here with my phone? Can you talk me through it?" Just to fuck with them. But my pride wins out and I'm whipping into my Venmo as fast as you can say Grandma, delighted to realize there was money in there from my gigs last weekend.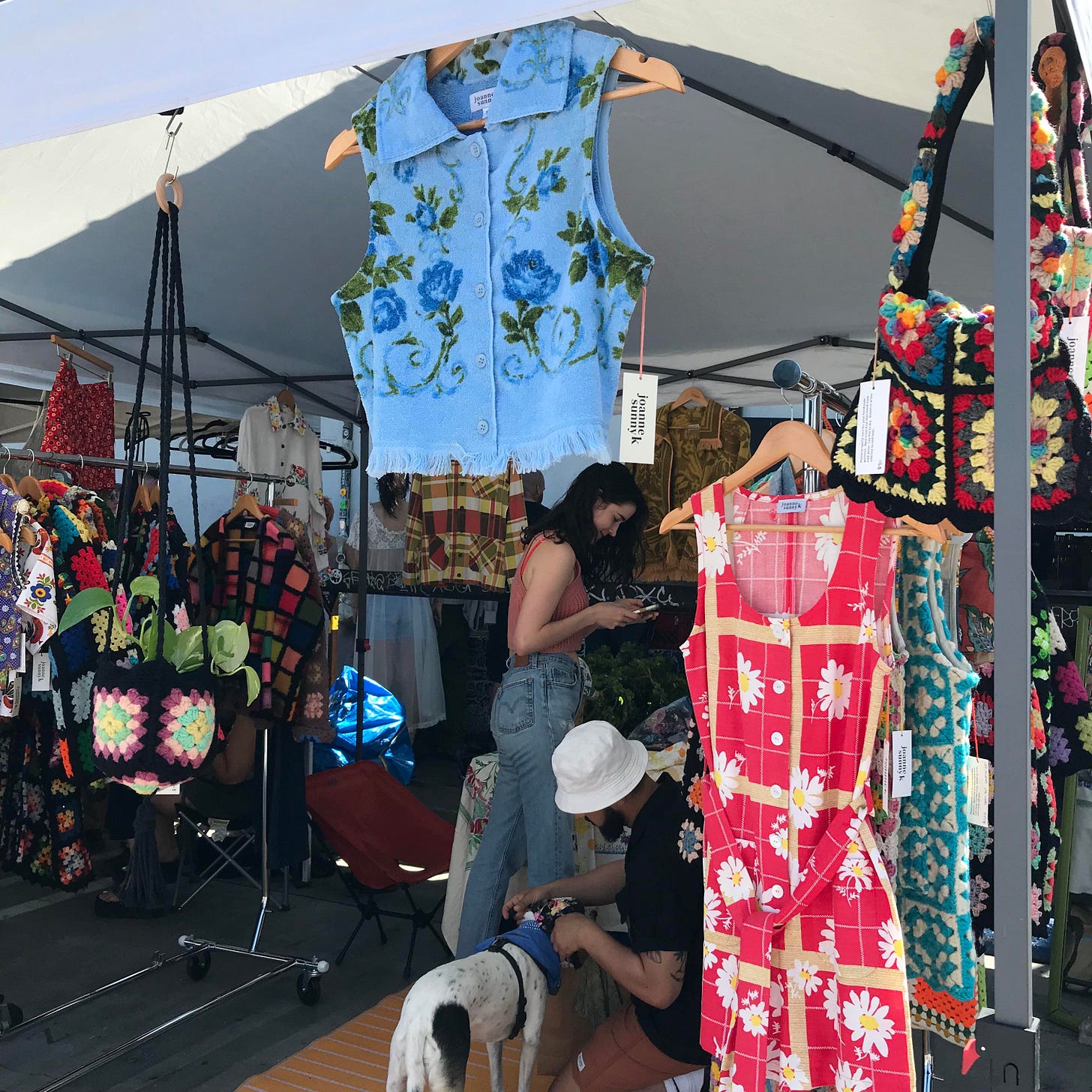 A walk through Arroyo Seco. More Mexican food. A gig in a house on a hilltop. Mother's Day breakfast at Cindy's. Pedicures and a late afternoon showing of Mommie Dearest, me and my daughter laughing and groaning through the film, me thinking "I wasn't that bad a mom was I?" and maybe my daughter silently nodding along with Christina: "I'm not. one of your. FANS!" And then the capper, a late for L.A. dinner at Musso & Frank's the old classic that doesn't disappoint. The men look admiringly at my daughter, glorious in her long hair and tights and cute clothes, I feel proud and the tiniest bit jealous of her youth and beauty and self-possession, I feel like my mother, like every mother, like Joan Crawford even, 'regard my creation!' at the same time thinking, as I have since my daughter was born: "Kid, teach me."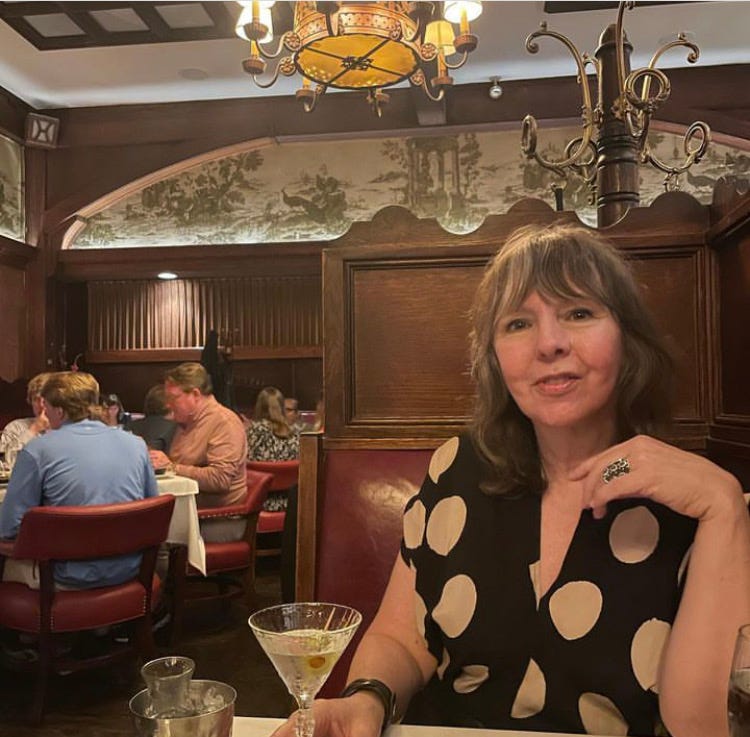 Next day on the flight back to Newark, I'm against the window in a row with two other women about my age, one styling in slashed jeans, curled hair, nails to here; the other grey hair pulled back, sneakers and backpack. We work together at passing snacks and drinks, they help me find my Airpods that slipped out of my pocket. There's that travel buzz, that filament of humanity it's hard to get to at home going through the routine of daily life. In among the stress and bad news and doubt (should I even be flying here and there in 2023? And what about all the gas I burn with all the miles I drive…) and dischord, those moments of communion with strangers feel even sweeter than they did before.
Until some clueless ninny heaves her roller bag out of the overhead practically braining me and my row of flight sisters, then pushes ahead of us oblivious.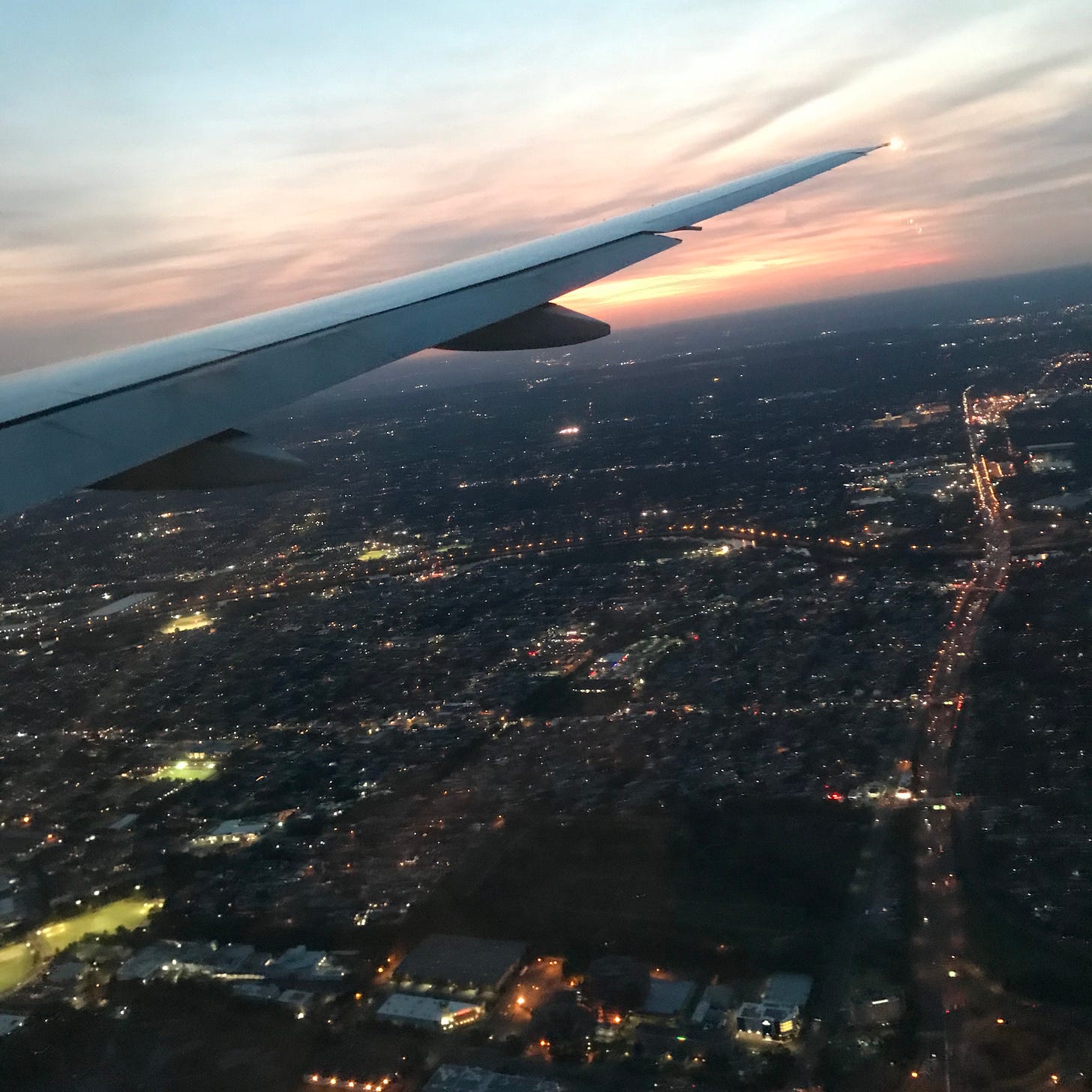 I went home for a minute, stopped off to visit my Dad in New Jersey and a day later landed at Gatwick. Eric's aunt passed away a few weeks back and he was set to give the eulogy at her funeral, on his birthday. I'd offered to join him. It was easy to take the train from the airport right to Worthing where she'd lived. Sitting on the train at 9 AM, looking around at all the people going to work and school, felt like a kind of miracle. How is all this possible? I guess I used to take it a lot more for granted.
They used to grill me at immigration coming into the UK, thanks to a load of work visas stamped in my passport. I had my story down: "Visiting family and friends," and it was true. The system's all automated now, nobody cares to hear my story. I didn't speak to a soul until the platform in Brighton when I asked a guy wearing cool sunglasses which was the train to Worthing.
The train stopped at Shoreham where Eric's mother lived. She's been gone five years this August. From her bedroom window you could see the train platform, and now here I was, sitting on a train stopped at the platform, looking back at her window. I wondered who lives there now? I was out in the world again but felt strangely like I'd arrived home too. The train moved on.